Tip:
Změna priority funguje správně pouze pokud je dána největší priorita malým datům. Dejte programům, které odesílají nejvíce dat nejmenší prioritu.
Priorita programu
Prvně cFosSpeed zkouší detekovat Layer 7 Protocol pro každé jedno připojení. Pokud není detekováno nic (např. protokol je NENÁMÝ) nebo priorita detekovaného protokolu je "normal", pak je detekční program použit pro analýzu.
Zvláštním případem je detekce HTTP streamu. Pokud je detekovaný protokol HTTP, cFosSpeed zkusí detekovat, jestli se jedná o video nebo audio stream. Funguje to jako:
Pokud je user agent přehrávače známý, nebo obsahuje slovo "player" v kódu, cFosSpeed rozdělí připojení na HTTP_STREAM_C nebo HTTP_STREAM_S. Otherwise if the content-type is audio or video it categorizes the connection as BSTREAM_C or BSTREAM_S. The BSTREAM_C/S connections are prioritized as "normal" so that the actual priority is determined by the program prioritization.
This allows you, for example in uncertain cases, to prioritize it according to your program use.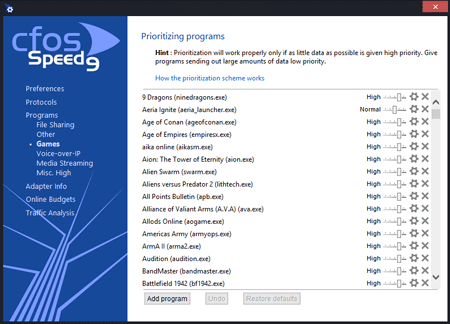 Prioritization - Your important streams first
You can adjust the priority of the most common network protocols, so all programs using it automatically have the right priority. In addition you can configure the priority of individual programs. This means downloads don't cause lag while gaming or viewing videos, for example.

Programy, kterí mají změněnou prioritu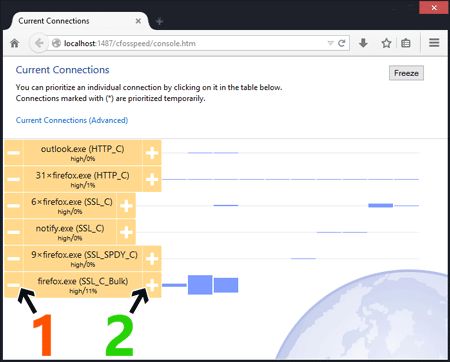 Overview of connections / On-the-fly prioritization of connections
In one glance you see which programs use your bandwidth. cFosSpeed let's you temporary change the priority to speed up transfers or reduce latency for time-critical applications.

1) Decrease priority
2) Increase priority