All you need to know about the cFosSpeed Status Windows and Skins
The cFosSpeed Status Windows display important statistics about your current Internet connection. You should choose the skin most useful to you, e.g. the icon skins which integrate into the task bar or the Traffic Analysis skin with real-time statistics about your current different traffic types. Please vote on the different skins. This will help us when designing the next skin window.
Liquid Crystal 스킨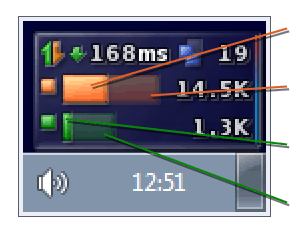 다운로드 전송률 (로컬) 을 %로
다운로드 전송률 (전체)을 %로
업로드 전송률 (로컬) 을 %로
업로드 전송률 (로컬) 을 %로
전송률을 %로
The vertical bar graphs scrolling from the right to the left show the history of transfer as percentage of the maximum reached up-/download transfer rate since the last installation or calibration of cFosSpeed. The total and local transfer rates are related to running cFosSpeed in multi-user mode. Local shows the transfer rates for the current computer only, while total - the amount of traffic within the local network.

The other display methods are the same as in the Liquid Crystal History skin.
배경
상태창의 투명한 배경은 [cFosSpeed가 설치된 디렉토리]\liquid_crystal_skin 에 있는 net.ini 파일을 다음과 같이 (비스타와 7에서는 관리자 권한이 있는 상태에서) 바꿔서 불투명하게 전환할 수 있습니다:

라인 7: background=background.tga -> ;background=background.tga
라인 8: ;background=matrix.tga -> background=matrix.tga

matrix.tga (같은 디렉토리에 있는) 파일은 적합한 그래픽 프로그램을 이용해 기호에 맞게 바꾸실 수 있습니다.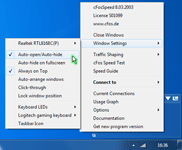 Deactivating the cFosSpeed status window
You can deactivate the cFosSpeed status window by right-clicking on it, selecting Window Settings and then deactivating "Auto-show/Auto-hide".
자신만의 스킨 만드는 방법
An introduction to creating your own skins can be found in our skin design tutorial