All you need to know about the cFosSpeed Status Windows and Skins
The cFosSpeed Status Windows display important statistics about your current Internet connection. You should choose the skin most useful to you, e.g. the icon skins which integrate into the task bar or the Traffic Analysis skin with real-time statistics about your current different traffic types. Please vote on the different skins. This will help us when designing the next skin window.
Metro Skin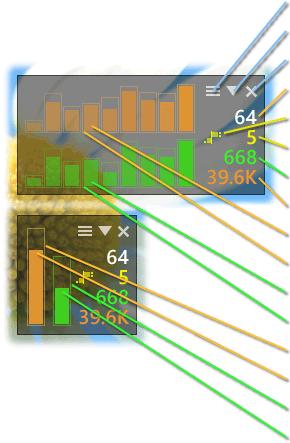 현재 접속창 열기
저대기시간 모드 스위치

= 현재 켜짐 (필요하다면) /
= 언제나 켜짐 / 화살표 없음 = 끄기
Switch: Large skin > normal skin > icon skin
ms로 표현된 핑 시간
Distribution of connections - IPv4 (.) / IPv6 (:)
TCP/UDP 접속의 수
업로드 CPS율
다운로드 CPS율
다운로드 전송률 역사 (로컬) 를 %로
다운로드 전송률 역사 (전체)을 %로
업로드 전송률 역사 (로컬) 를 %로
업로드 전송률 역사 (로컬) 를 %로
다운로드 전송률 (전체)을 %로
다운로드 전송률 (로컬) 을 %로
업로드 전송률 (로컬) 을 %로
업로드 전송률 (로컬) 을 %로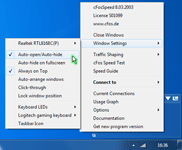 Deactivating the cFosSpeed status window
You can deactivate the cFosSpeed status window by right-clicking on it, selecting Window Settings and then deactivating "Auto-show/Auto-hide".
자신만의 스킨 만드는 방법
An introduction to creating your own skins can be found in our skin design tutorial