cFosSpeed Status Window (Skins)
All you need to know about the cFosSpeed Status Windows and Skins
The cFosSpeed Status Windows display important statistics about your current Internet connection. You should choose the skin most useful to you, e.g. the icon skins which integrate into the task bar or the Traffic Analysis skin with real-time statistics about your current different traffic types. Please vote on the different skins. This will help us when designing the next skin window.
Default-Skin (graphical)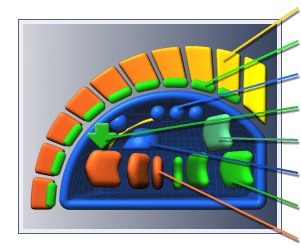 Download transfer rate in %
Upload transfer rate in %
Nummer van TCP/UDP connecties
0=geen / 1=één / 2=twee tot vijf / 3=meer dan vijf
Low Latency Mode switch (

= tijdelijk aan (zo nodig) /

= Altijd aan / geen pijl= uit
Packet prioritized door Traffic Shaping
Ping-time wave display
groen=goed / geel=OK / rood=slecht
Regular upstream data packet
Reguleer downstream data pakket
De standaard skin is gedisgned om data streams grafische te tonen.
Ping times are represented by green, yellow, or red waves in the standard skin's graphical display. Actual ping times depend in significant part on the number of simultaneous up- and downloads. If this number rises, latency will likely increase as well.
Om de maximale transfer rates te bekomen tijdens het downloaden, de ping time voor elke download moet daarvoor regelmatig verhoogd worden.
Switching between Graphical and Numerical Display of the Default Skin:
By clicking on the corresponding buttons, it is possible to toggle between graphical and numerical skin display.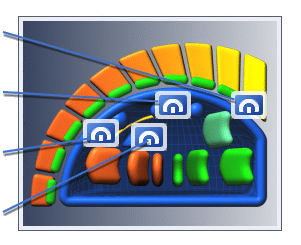 Switch: Transfer rate in %
Switch: Nummer van TCP/UDP connecties
Switch: Favorieten Ping Tijd on/off (lage latency mode)
Switch: Ping times graphical/numerical
Numerical Display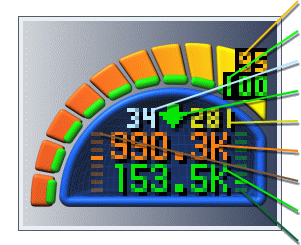 Download transfer rate in %
Upload transfer rate in %
Ping time met prioritized-packet display geactiveerd [ms]
Low Latency Mode switch

= tijdelijk aan (zo nodig) /

= Altijd aan / geen pijl= uit
Nummer van TCP/UDP connecties
Download CPS rate
Download Activiteiten-Display
Upload CPS rate
Upload activiteiten display

Hoe maak je uw eigen skin
An introduction to creating your own skins can be found in our skin design tutorial