cFosSpeed Status Window (Skins)
All you need to know about the cFosSpeed Status Windows and Skins
The cFosSpeed Status Windows display important statistics about your current Internet connection. You should choose the skin most useful to you, e.g. the icon skins which integrate into the task bar or the Traffic Analysis skin with real-time statistics about your current different traffic types. Please vote on the different skins. This will help us when designing the next skin window.
Liquid Crystal History Skin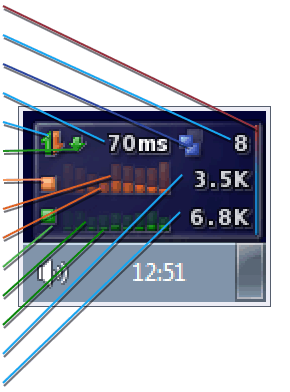 Budget used in %
Nummer van TCP/UDP/TCP+UDP connecties (veranderbaar)
Nummer van TCP/UDP connecties (graphical display)
0=geen / 1=één / 2=twee tot vijf / 3=meer dan vijf
Ping time in ms
tx_shape_level / rx_shape_level
Low Latency Mode switch

= tijdelijk aan (zo nodig) /

= Altijd aan / geen pijl= uit
Download Activiteiten-Display
Historie van download transfer rate (total) in %
Historie van download transfer rate (local) in %
Upload activiteiten display
Historie van upload transfer rate (total) in %
Historie van upload transfer rate (local) in %
Download CPS rate
Upload CPS rate
Shape level
Hou lighter de indicator zichtbaar is, hoe meer de Traffic Shaping aan het werken is aan de transfer directies.
Transfer rate in %
De horizontale bar graphs voor upload en download toon de transfer als percentage van de maximum gehaalde up-/download transfer rate van de laatste installatie of calibratie of cFosSpeed. De totale en locale transfer rates zijn gerelateerd naar de lopende cFosSpeed in multi-user mode. Locaal toont de transfer rates voor de huidige computer alleen, de totale hoeveelheid van verkeer binnen het locale network.
The background
De transparante background van de status window can vervangen worden door een opaque one door toevoegen van (onder Vista en Windows 7 met admin rechten) het volgende veranderen naar de files net(_n).ini en net(_n)_l.ini in de directory [cFosSpeed install directory]\Lc_insight_skin::

lijn 7: background=background.tga -> ;background=background.tga
lijn 7 8: ;background=matrix.tga -> background=matrix.tga

De file matrix.tga (in dezelfde directory) kan gemodifficeerd worden naar u eigen voorkeur door gebruik van toepasbare graphische programma's.

Hoe maak je uw eigen skin
An introduction to creating your own skins can be found in our skin design tutorial