Belangrijke opmerking op cFos Traffic Shaping
cFos Traffic Shaping is nu in de kalibrering en in lerende fase. Dit is noodzakelijk om de exacte verbindingssnelheid te bepalen en de beloofde prestatie zowel voor optimale download en upload tarieven te verzekeren dit zal worden bereikt terwijl de ping laag blijft.
Afhankelijk van hoe vaak U uw verbinding gebruikt, Kan deze fase een paar dagen duren. Hoewel, U kunt dit process versnellen door een groot bestand via email naar uwzelf te versturen, daardoor zal er een effectieve upload lopen gedurende verscheidene minuten op volle bandbreedte

How Effective is cFosSpeed Traffic Shaping?
Christoph Lüders & Christian Carazo, cFos Software GmbH - October 26, 2018
Download: cfosspeed-traffic-shaping-report.pdf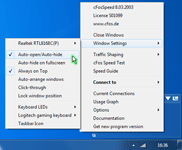 Deactivating the cFosSpeed status window
You can deactivate the cFosSpeed status window by right-clicking on it, selecting Window Settings and then deactivating "Auto-show/Auto-hide".