Wskazówka:
Ustawione priorytety spełnia swoją role tylko jeśli możłiwie najmniej danych będzie miało ustawiony najwyższy priorytet. Programom wysyłającym duże ilości danych ustawiaj niskie priorytety.
Program prioritization
cFosSpeed dla każdego połączenia najpierw próbuje wykryć protokół wartwy 7. Jeśli go nie wykryje (np. protokół jest NIEZNANY) lub też priorytet wykrytego protokołu jest "normalny", wtedy do określenia priorytetu probuje się wykryć program powodujący ruch.
Szczególnym przypadkiem jest wykrycie strumienia HTTP. Jeżeli wykryty zostanie protokół HTTP, cFosSpeed ​​próbuje określić czy jest to strumień audio lub wideo. Działa to w następujący sposób:
Jeśłi nagłowek user agent jest na liscie znanych odtwarzaczy bądź zawiera wpis "player", cFosSpeed klasyfikuje połączenie jako HTTP_STREAM_C lub HTTP_STREAM_S. Gdy rodzaj przesyłanej treści to strumień audio lub video jest klasyfikowany jako BSTREAM_C or BSTREAM_S. Połączenia BSTREAM_C/S mają priorytet ustawiony na poziomie "normalny" tak więc odpowiedni priorytet jest określany na podstawie priorytetu przypisanego do programu.
To pozwala, na przykład w niepewnych przypadkach, na nadanie priorytetu w zależności od programu którego uzywasz.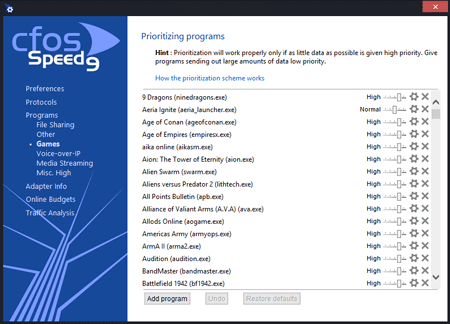 Nadawanie pierwszeństwa
You can adjust the priority of the most common network protocols, so all programs using it automatically have the right priority. In addition you can configure the priority of individual programs. This means downloads don't cause lag while gaming or viewing videos, for example.

Programy z określonymi priorytetami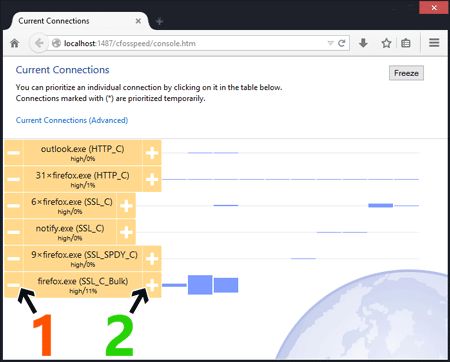 Podgląd połączeń / Nasze stare strony o Traffic Shaping
In one glance you see which programs use your bandwidth. cFosSpeed let's you temporary change the priority to speed up transfers or reduce latency for time-critical applications.

1) Decrease priority
2) Increase priority