Get a free license (cFosSpeed) for helping us with 10 or more reviews.
Some texts are generated by machine translation. Help us to improve these texts. Click the button to start revision mode.

Enable port forwarding for the Sagemcom 2764

1 Log into your router with your username and password (default IP: 192.168.25.1 - default username: admin / password: gvt12345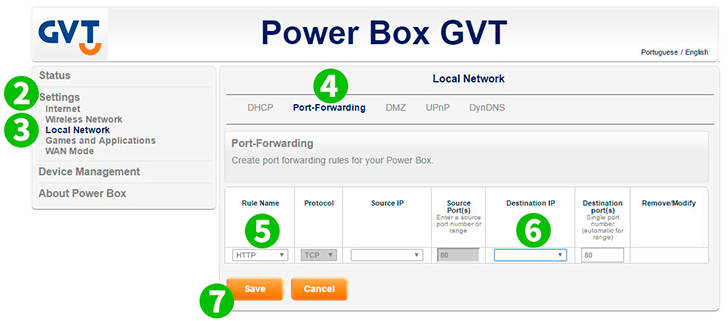 2 Select "Settings"
3 Select "Local Network"
4 Go to "Port-Forwarding"
5 On "Rule Name" select HTTP
6 On "Destination IP" field, enter the (preferably static) IP of the computer cFos Personal Net is running on (leave "Source IP" field blank)
7 Press "Save"
Port forwarding is now configured for your computer!
Enable port forwarding for the Sagemcom 2764Instructions on the activation of Port Forwarding for the Sagemcom 2764