[%$hidden_fields%]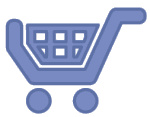 Благодариме за Вашата нарачка!
Дата на нарачка: [%$ctimedate%]
Пренесено е на нашиот тим за нарачки и ќе биде процесирана истиот или следниот работен ден.
Исто така ќе добиете потврда по е-маил штом нашиот тим ја внесе нарачката во нашиот систем.
PayPal трансфер
Ќе Ви пратиме линк до PayPal следниот работен ден. Ќе ги содржи сите информации потребни за плаќање. Ако сакате да ја убрзате Вашата нарачка, можете исто така да платите веднаш. Одете на сајтот на PayPal (линкот подоле) и внесете ги сите неопходни податоци мануелно. Молиме внесете го Вашето име во полето "email subject". Испорака по потврдување на уплатата.
AliPay transfer
Молиме уплатете сега [%$prodprice%] [%$prodcurrency%] to the AliPay account:

Please enter "" as reason for payment.
If your AliPay account is registered with an e-mail address other than , please inform us about this so we can assign your payment faster.
More info on payments with Alipay
Симни
You can download the current version of your software
here
.