Broadband Connect Documentation
Latest News
News / Info

Which product?
cFosSpeed, cFos or cFos Broadband Connect - which product to choose? [more]

Link to our web page and qualify for a free key. [more]

Tested as the fastest DSL driver :
cFos Broadband Connect


Internet Dial-Up - High Speed Connection >= 16Mbit/s


Special price for citizens of India.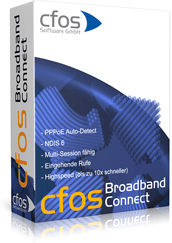 Features at a glance:
PPPoE Dial-Up driver for Windows
High-speed, 10x faster than the Windows driver
low CPU usage
PPPoE auto-detect, all PPPoE parameters configurable
Incoming calls
Multiple sessions, no limit for the number of connections
Filtering with 'Service-Name' and 'AC-Name'
NDIS 5.1 / NDIS 6 (under Vista / Windows 7)

Related product:




cFosSpeed , Internet Acceleration via Traffic Shaping
Which product? cFosSpeed, cFos or cFos Broadband Connect - which product to choose?