More on cFos Traffic Shaping
Ping časi bi se morali začeti pri nizki vrednosti od začetka, medtem ko bo upload najprej moral biti pravilno usklajen z največjo specifikacijo povezave. Lahko menjate med numeričnim ali grafičnim prikazom trenutnega časa Pinga na statusnem oknu.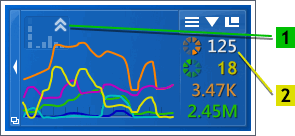 The cFosSpeed status window contains two important elements which indicate how Traffic Shaping works:

1 The Traffic Shaping indicator. It "blips" whenever cFosSpeed re-orders a packet, ie. whenever a prioritization takes place.

2 The ping time indicates how reactive your Internet connection is during upload/download. The lower the value the better.
Opomba: To measure the latency Pings will be sent to www.cfos.de. However they never reach their destination, since they use only a small hop count (typically TTL 2 or 3). If you prefer another ping destination, you can set the key ping_dest in the file global.ini, section [param].
Additional things you can do
Onemogočite ostale izdelke, ki poskušajo omejiti hitrost povezave, npr.Traffic Shaping Fritz!Box. Te dve rešitvi motijo ena drugo.
V glavnem menuju, izberi pravilen medium za svojo povezavo pod Možnosti, Povezave.
Več informacij
Če pogosto uporabljate telefon priključen v router za Voice-over-IP (VoIP) klice, prosimo izberite "spremnljiva pasovna širina" za svojo povezavo.
Več informacij